Are you trying to choose between Neuro Peak and Alpha Brain? Both supplements are made to help your brain perform better in a wide variety of different circumstances. While they look similar in their packaging, their formulas aren't much alike, which can provide different experiences.
In a head-to-head comparison, we chose Alpha Brain over Neuro Peak.
Want to learn why? Read below to find out…
Table of contents
Alpha Brain
Alpha Brain is the flagship product by the popular website, Onnit. It rose in popularity due to the increase in interest in biohacking as well as their impressive roster of celebrity endorsements. In addition to its brain boosting ingredients, Alpha Brain also works to help increase lucid dreams. These are the dreams that you have where you are in control and fully aware that you are dreaming.
What makes Alpha Brain an impressive supplement, in my eyes, is the fact that they offer one of the best satisfaction guarantees on the market when it comes to nootropics. If you don't like Alpha Brain, you can keep the bottle and they will still send you your money back. I respect Onnit for standing up for their products like that.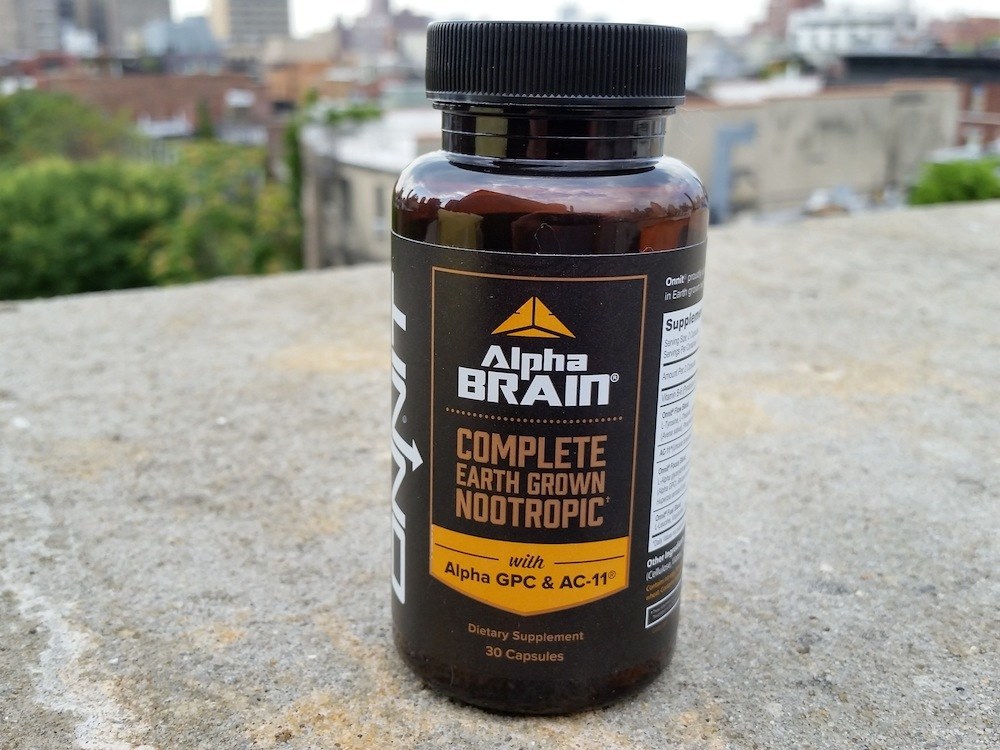 Ingredients
Now let's take a look at the ingredients in Alpha Brain so that we can properly compare it with Neuro Peak.
Vitamin B6 (Pyridoxine HCI)
L-Tyrosine
L-Theanine
Oat Straw Extract (Avena Sativa)
Phosphatidylserine
AC-11 (Uncaria tomentosa Extract)
L-Alpha glycerylphosphorylcholine (Alpha GPC)
Bacopa Monniera Extract
Huperzia Serrata Extract
L-Leucine
Vinpocetine
Pterostilbene
Reviews
Look almost anywhere and you'll see that Alpha Brain is one of the most popular nootropics on the internet. Our testers really enjoyed using Alpha Brain because of the ways it helped improve their cognitive abilities as well as how it induced lucid dreams. Other reviewers have successfully used Alpha Brain in a variety of different settings — work, school, and even the gym.
One of the main benefits of Alpha Brain is the fact that it doesn't contain massive amounts of caffeine, like other nootropics on the market. In fact, Alpha Brain doesn't have any caffeine in it. This is important because caffeine is a stimulant that, when overused, will cause a crash. Not including caffeine in this supplement means you can still sip on your favorite coffee or tea and control the amount of caffeine that works for you (without causing a big crash).
Alpha Brain is a great starter nootropic. It is one that, in my opinion, is very beginner friendly. You don't need to know a lot about the world of nootropics to pick up a bottle of it and start feeling its effects.
Price and Value
You can currently purchase Alpha Brain for $29.71 (when you subscribe) to it via Onnit. If you do not subscribe, you can purchase it at the slightly higher price of $34.95. This will give you 1 months supply of 30 pills. That comes out to around $1.16 per pill.
To get regular, clean energy and focus at $1.16 per dose, I would say Alpha Brain is a great deal. Compare it to any coffee shop that is going to charge upwards of $2 per cup and you'll see how much you're saving.
Neuro Peak
Created by Zhou Nutrition, Neuro Peak is a physician-formulated nootropic that claims to improve memory, clarity, and focus. It also markets itself as a stress and anxiety reliever. You can find Neuro Peak sold on the manufacturers website as well as Amazon.
Neuro Peak does offer an impressive 60-day money back guarantee. However, it does not beat Alpha Brain's much more impressive guarantee.
Ingredients
Now let's take a look at the ingredients in Neuro Peak so that we can properly compare it with Alpha Brain.
Vitamin B-12
Bacopa Monnieri
Phosphatidylserine
Ginkgo Biloba
Rhodiola Rosea Extract
DMAE
Reviews
Like Alpha Brain, Neuro Peak is also very well reviewed. If you go on Amazon, you will see a lot of people raving about how it has helped them focus without making them jittery like coffee or an energy drink would. Some reviewers left 1 or 2 stars, claiming that they felt no effects. But for the most part, Neuro Peak receive mostly 4 and 5 star reviews.
Price and Value
Neuro Peak comes in at $19.99 via Amazon. In the bottle there are 30 pills. That brings the cost to around 66 cents per pill. As you can see, the cost per pill is much less than what you get with Alpha Brain. However, you also have to consider that you are receiving less in each pill with Neuro Peak. Neuro Peak contains 6 main ingredients whereas Alpha Brain contains 12. Those added ingredients also have added benefits when it comes to improving cognitive abilities such as mental clarity and focus.
Neuro Peak vs Alpha Brain: Ingredients
| Ingredients | Neuro Peak | Alpha Brain |
| --- | --- | --- |
| Vitamin B-12 | Yes | No |
| Bacopa Monnieri | Yes | Yes |
| Phosphatidylserine | Yes | Yes |
| Ginkgo Biloba | Yes | No |
| Rhodiola Rosea Extract | Yes | No |
| DMAE | Yes | No |
| Vitamin B6 (Pyridoxine HCI) | No | Yes |
| L-Tyrosine | No | Yes |
| L-Theanine | No | Yes |
| Oat Straw Extract (Avena Sativa) | No | Yes |
| AC-11 (Uncaria tomentosa Extract) | No | Yes |
| L-Alpha glycerylphosphorylcholine (Alpha GPC) | No | Yes |
| Huperzia Serrata Extract | No | Yes |
| L-Leucine | No | Yes |
| Vinpocetine | No | Yes |
| Pterostilbene | No | Yes |
Neuro Peak vs Alpha Brain: Final Thoughts
Overall, both of these nootropics are very good for people who want to dip their tow in the water when it comes to brain-boosting supplements. They both include Bacopa Monniera, which is, in my opinion, a great supplement for increasing mental cognition and clarity.
If you are looking for the best, when it comes to Neuro Peak versus Alpha Brain, I recommend Alpha Brain. This is for a few reasons. First, you get more with Alpha Brain. Just look at the ingredients list of both nootropics and you can see it. With Alpha Brain you get great brain boosters such as: Vinpocetine and L-Theanine. Both of these supplements have been proven to help your brain work in more ways than one.
Another reason why I think new users should go with Alpha Brain is because of their stellar money back guarantee. In fact, I have never heard of another nootropic company that lets you keep the product, even if you ask for your money back. You can literally try Alpha Brain without having to risk your money.
Lastly, I like that Alpha Brain induces lucid dreams. It may not be the main reason why you would buy it but it certainly is a fun added bonus.
Yes, Neuro Peak is slightly cheaper than Alpha Brain but when it comes to nootropics, you should be looking for quality over price. Alpha Brain gives you the quality formula you need to achieve elevated levels of focus and mental clarity.
If you are new to the world of nootropics and are looking to take your mind to the next level, I recommend trying Alpha Brain.
DISCLAIMER:
We are not doctors. The opinions on this website are not to be taken as medical advice. None of these opinions have been reviewed by the FDA. Consult your doctor before taking any supplements. We receive free products to review and participate in affiliate programs, where we are compensated for items purchased through links from our site (at no cost to the buyer). See our
disclosure page
for our list of comped products and affiliate programs. BrainWiz.org is a participant in the Amazon Services LLC Associates Program, an affiliate advertising program designed to provide a means for sites to earn advertising fees by advertising and linking to amazon.com.